An effective tool for mass payments
One of the most significant benefits of mass payouts is the optimization of your time. After all, thanks to bulk fiat payouts, you can send a large number of payments at the same time, reducing processing time and resources required.
This is especially beneficial for businesses that need to process large volumes of payments as it saves them time and money.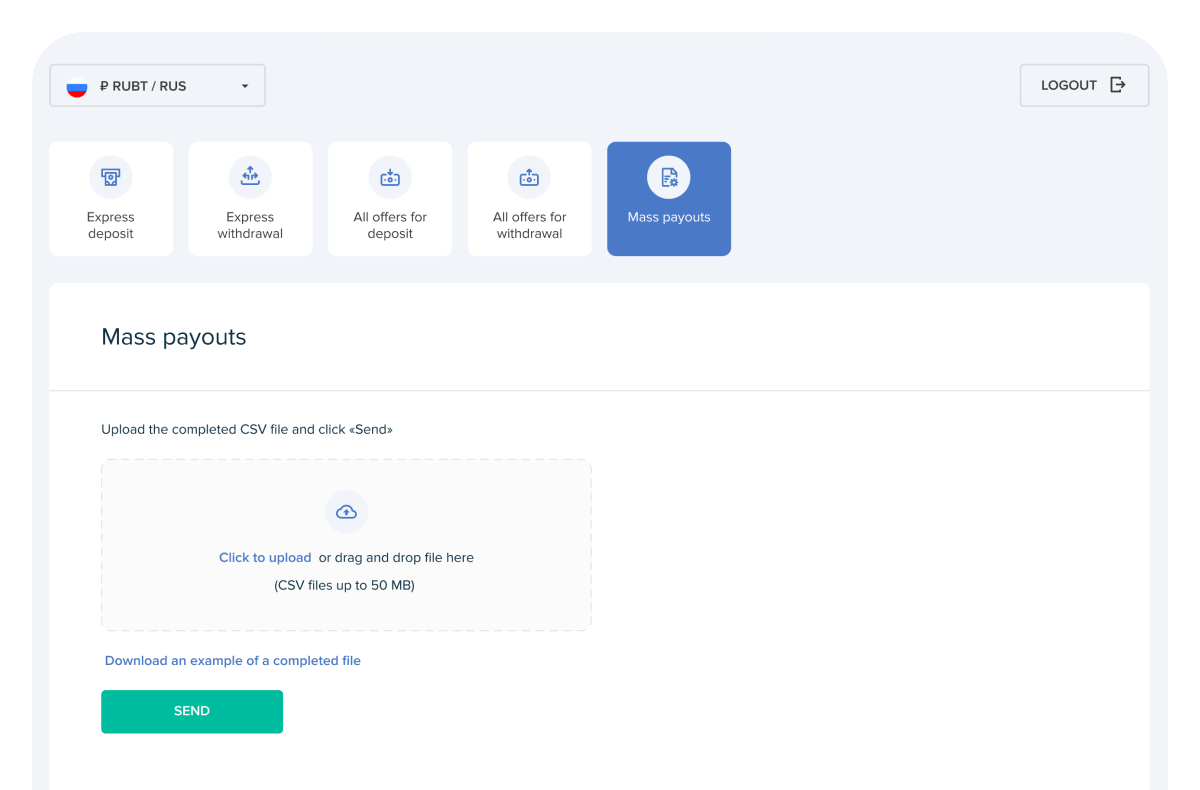 Crypto 2 Fiat
You deposit the cryptocurrency to your MATBEA account, from where you make a mass payment to the cards of Russian banks.
Payouts
We will make payments to individuals on cards of any bank in the Russian Federation, ideal for self-employed or freelancers from the Russian Federation
Offshore friendly
We officially work with offshore jurisdictions
Low fees
Payments are made through the p2p exchange MATBEA at the market rate
We support 200+ banks
We offer a wide range of supported banks and payment systems.





Make your first payout now
Complete a simple registration on our platform and start making multiple payments at the same time!
What are the other benefits of MATBEA mass payouts?
Mass fiat payments refer to the process of transferring a large number of payments in a single transaction. This is becoming more and more common across industries including finance, e-commerce, and gaming. The mass fiat currency payout process is fast, efficient, and can save companies a significant amount of time and money.
In addition, mass payouts have become an important tool for companies looking to streamline their payment processes. Instead of processing each payment individually, businesses can send a large number of payments at the same time using mass payouts. This means businesses can reduce the time and resources required to process payments, allowing them to focus on other areas of their business.
In addition to saving time and money, mass payouts can also give companies a competitive edge. By offering fast and efficient payment processing, businesses can improve the customer experience and attract new customers. This is especially important in industries such as e-commerce, where customers expect fast and reliable payment processing. Overall, mass payouts are an important tool for businesses looking to streamline their payment processes and gain a competitive edge. By taking advantage of this technology, businesses can save time and money while improving the customer experience.